there is strength in team work.
just ended prayer conference with Huishan, Beryl and Mabel for D1!
we just encouraged each other and prayed for the people. how cool to have teammates who will go through the same kind of things and sometimes though not everyone will understand exactly what it feels like, at least being able to pray together gives us some stregth!
:)

and ALL THINGS are possible through Christ who strengthens me!
(it includes my studies.. )

anyway, this song is really powerful.. check out the lyrics..
:)



Desert Song - Hillsong





This is my prayer in the desert




When all that's within me feels dry




This is my prayer in my hunger and need




My God is the God who provides





This is my prayer in the fire




In weakness or trial or pain




There is a faith prove to be more worth than gold




So refine me Lord through the flame





I will bring praise




I will bring praise




No weapons formed against me shall remain




I will rejoice




I will declare




God is my victory and He is here





This is my prayer in the battle




When triumph is still on its way




I am a conqueror and co-heir with Christ




So firm on His promise I'll stand





All of my life




In every season




You are still God




I have a reason to sing




I have a reason to worship





This is my prayer in the harvest




When favour and providence flow




I know I fear to be emptied again




The seed I've received I will sow



Pastors just left for Gold Coast...
Dominic, Jamie and a group of leaders are going to be back from Gold Coast soon.
:)
can't wait to see them!
But i know we'll all miss Pastors!
hahaha..

alrights!
goodnight peeps. CHC Morning Prayer tomorrow, in approx 6 hrs time..
SEE YOU!
:)


If you want something you've never had before, you gotta do something you've never done before!

(Study hard-ER)
(Wake up duper early & be there for morning prayer!)


+ Faith

Sunday, August 02, 2009


12:30 PM

been a super long time since i last updated..

anyway! life has been exciting and everything is really moving fast and faster!
Festival of Praise is going on right now.. tonight is the last night!
if you haven't been to one, hurry hurry go down to Singapore Indoor Stadium tonight.. :)

Pastor How preached a really powerful sermon at combined service last night. atmosphere was really great with Pastor Lia worship leading and our very own choir singing! :)
it is so amazing how our church works and how things that are 'exclusively Heart of God church'.. just love those things that are unique to us in our culture, our DNA, our heart and our character..

Festival of Praise on Friday was just as cool. Opening video done by our own Post-Pro team; special stop motion video proclaiming to the whole nation a message of 'Let no one despise your youth' done by our super professional, under 22yrs old team of youths; Pastor How and Pastor Lia sharing on stage.. Just so amazing! And also, the coolest experience of being an usher in Spore Indoor Stadium.. COOLIOS!

Alrights.. This is the season to GROW BIGGER and also balance both church and school..
Way to go!!

~ oh, lift it higher.. lift it, lift it higher!


+ Faith

Monday, July 06, 2009


12:58 PM

this morning, i woke up with a determination that i must seek God first before i start hitting my books.
everything was good, but the greatest part was reading Pastor How's tweet that BOTH Pastor Kong and DR A R Bernard will be coming to our church on FRI and SUN! :)
This was duper cool and powerful.
2 of the most influential and anointed speaker will be in church this weekend!
we're all getting excited and in for a really good treat!

and as i was reading twitter.. i went onto Youtube and searched for this powerful song: The God I Know..
as i listened to it, i can't help but just tear.. just by listening and watching the video and letting the lyrics run..
indeed, we really want to be the church that He knows...
such a powerful song came from a powerful church led by a great man. and better still, Pastor Kong is going to be here in Heart of God Church this weekend..
if you know how to do the link, i'm sure you'll get what i mean!
:)
Yeah man!

anyway, check the videos out!
Part 1: http://www.youtube.com/watch?v=H3VLKAL_suI
Part 2: http://www.youtube.com/watch?v=bi7Q-qYTpBI

i'm sure you'll be impacted..
:)


Ready to conquer my books now!


+ Faith

Saturday, July 04, 2009


1:40 AM

few exciting things! :)

1. Transformers was really absolutely GOOD.. :) :) :)
hahaha. So glad i caught it!
and i really think that Megan Fox is NOT a guy. seriously..
haha!

2. i can't wait for service tomorrow with Pastor Kent Munsey!
His dad came and rocked the place! I'm sure he will too!!! :)

3. Dr A R Bernard's coming next week!
We'll make sure we all turn up for all the services no matter what man..
And of course, I remembered how his message and ministry blessed me during Asia Conference last year. Real good.. :)

4. CT2 is starting soon, but i tried to push it to the back of my mind.. :)

Everything is really moving so fast and many people are updating TWITTER and not blogs!
Twitter is really effective man!
Get one NOW if you don't have it!

Lastly, some photos over the month of June.. HAHA!



Marvelous Cream Ice Cream for the first time with Sam Teo and Beryl! We have a passionate love for FOOD! :D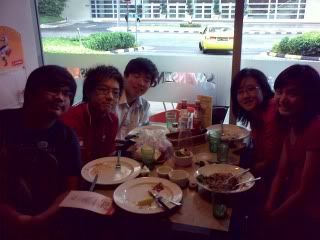 Lunch with Sam Teo, Cedric and Yee Siong to celebrate Jeremy Matthews' birthday! :) Swensens people really made us wait and made us rather frustrated! HAHA.. Nevertheless, we had a cool celebration though the surprise was almost spoiled!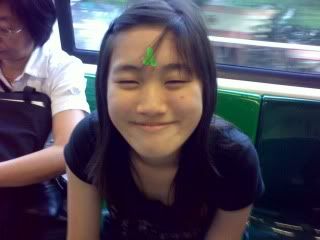 Lastly, beloved Beryl Hong did this on our train ride to Changi Airport when Pastors are coming back. Don't you agree that sometimes we think that she's from some tribal clan in China? :)

Great day ahead! :)
Woohooo~
Hahaha..


+ Faith

Tuesday, June 30, 2009


11:45 PM

few things that inspired me..
:)

read Pastor Kong's blog post of Do We Need The Ten Commandments?
and the last part really just summarises everything..
it goes:
The truth be told, supporters of the Ten Commandments are in the abundance. In his June 21, 2009 interview with Seattle Post, Dr. Billy Graham gives his view on why we need the Ten Commandments. Dr. Graham says, "We don't keep the Ten Commandments in order to be saved; we keep them because we want to please God and bring honor to Him by the way we live. Jesus said, 'If you love me, you will obey what I command' (John 14:15)."

real cool..
and reading this Facebook note by KS made me feel that i am super duper lucky to be able to be in the worship team and in Heart of God Church.
being in worship team really gave me a whole new understanding of worship and how the Spirit of God moves.
:)

Discipleship class with Garrett on Sat was also another powerful experience with God, where we all entered into our own secret place and met God face to face right there and then.
we could talk to God just like a friend, leaving all our ministries and problems behind, just enjoying and loving God, and God alone..
:)
there i saw and heard things that i would never had if i hadn't entered into the secret place.
:)

and recently, God put a powerful phrase into my heart.. i was shocked, yet it touched me deeply.
God says:
The scariest thing is not when I do not know, but it's when we know and didn't dare to believe it..
He's referring to my future, i know.. :)

He knows what I am thinking about even when I thought they weren't important thoughts.


and lastly, today, the lyrics of this song finally meant something to me.
it was 135 play count on my iTunes but yet i do not have a real understanding of what it's singing about.
but everything's different now!

here's the lyrics, simple yet meaningful!



Worshipping You





Take this offering that I bring




Humbly I fall on my knees




To proclaim You're everything




My life's nothing without You




Take my hand and lead me through




You are my sustaining love







I live to worship You




I live to worship You





Here I am worshipping You




With all I am worshiping You




Bowing down in spirit and truth




With lifted hands worshiping You





I'm gonna worship You forever




I'm gonna worship You




I'm gonna worship You forever




I'm gonna worship You




+ Faith

Sunday, June 21, 2009


11:50 PM

a beautiful sunday that has no church service really made me feel weird.
hahaha.

nevertheless, i had a fruitful and enjoyable week!!
in fact, it was filled with many encounters with God and tapping into the spiritual realm.

i am happy and proud to say that i attended 1 service every day for the whole of last week.
and i felt really amazed by the way God uses people, the way God speaks to us, and of course, how everyone of us is being included in the whole big picture of His creation and His Kingdom..

looking back on the days of the week, i felt really blessed by the word that was delivered over the pulpit.. they inspired me, ministered to me, challenged me and also brought me to dream with God how amazing all our future can be..

it's really amazing how our whole church is moving up to a whole new level altogether. and knowing that everything that we do here is related to whatever that's on Pastors' hearts even though they are not around really made me smile at the end of the day..

Pastor Troy preached a powerful message yesterday that was so inline with the season of our church and caused many of us to carry the burden of our church with us.. Mae Ann preached a powerful offering message in Zone F svc ytd, telling us that everything of the church 'depends on us'.. IT ALL DEPENDS ON US.. not our Pastors, our leaders.. but US.. whether the church grow, whether the church will break through, whether we will have enough finances to sustain our church rental... and Ivan preached a mind-blowing sermon for zone F svc as well.. one that was revolutionary and mind changing. zone F is indeed the Peter generation, the now generation.. everything was so powerful and i am really excited for our church to go to a whole new level when Pastors are back!! :) :) :)

DEO camp ended and i'd say that ALL of us had a great time.. :) despite the lack of sleep, everyone of us enjoyed ourselves, making many new friends and having fun with them..
not forget to mention about the amazing food that we had, Buffet and Steamboat.. whoa.. :P
and of course, our powerful services with Dominic and Pastor Troy.. :)

those who have missed out on it, i bet you are feeling quite sad now....

Pastor Troy and Pastor Vince really blew me off many times.. not just about the message of God that they had for us, but also about their character..
they are such real people with great character and love for people..
:)
they shared that they really believed in what Pastors are doing in our church, what our Pastors believed in and more than that, Pastor Troy is willing to sow into our church in practical means of sowing into our building fund!!
i bet that really blew many people off.. :)

yeah yeah..
everything was just so amazing..
and being able to sing on Elevate was really amazing too.
:)
seeing God move in the lives of the people, seeing people getting touched by the presence of God and more than that, i was also ministered by God myself..
real cool man ...
hahaha..

time to really enlarge and grow man!
:)

i know that God is moving in all our lives right now.
and i am currently reading the book of Samuel.. really inspiring and that the thing that matters most to God is really the small intangible things.. :)


gratitude.
love for God.
loyalty.

i think these are the words that i could think of now as i just read some things online.
many people seems to jump into conclusions and are quicker to speak than to listen...

Time to seek God and read His word! :)
great day tmr!
going to get a (belated) Fathers' Day present with my brother! :D

goodnight!


+ Faith

Saturday, June 06, 2009


1:03 AM

i guess i have many thoughts today and i will just try my very best to put them down in words.. hopefully i am as clear to communicate as i can be.. :)


today's great and i just had a powerful session of Follow up Training with Pastor Lia in church..
seeing how Pastor Lia pushed through the almost 4 hrs session of training was really a first hand revelation of how Pastor Lia is really committed in the things that she do..
and this reminds me of what Dominic preached in the zone F service weeks ago about commitment.
Dominic shared a story about Pastor Lia having an undying commitment.. there was one night when Pastor Lia had a sermon to prepare and also a youth to minister to and Pastor Lia chose to minister to the youth.. Dominic quoted Pastor Lia where she said something like, ' I would have missed the point if I lose one teen just to prepare a sermon to preach to a hundred.'
it's something about: What's the point of preparing a great sermon but losing a youth...
some things just cannot be explained.. it's something when you get to see or experience it for yourself, then you will truly understand what it means..

anyway, the training was really refreshing for me and i felt as though i had gone through the follow up lessons myself.. :)
the presence of God was strong and God really spoke to me during the worship at the end..
how great to be a Christian, how great to be in Heart of God Church..

as i was waiting for my bus at the bus stop just now, i stared into the sky and thought.. (because the bus took super long to come!!)
and i felt this sense of how we are so small in the world and like what Pastor How preached last week, how the world is so big and therefore we feel so insignificant..
almost immediately, i felt the presence of God surrounding me and i know that i wasn't insignificant in God's eyes.. at that point of time, i was reminded of exactly how i would have been like if Jesus haven't come into my life.. what a meaningless, purposeless and empty life i would have led..
haha!
nevertheless, it's these times when i felt really thankful for what God had done for me in my life. :)


just went to read Maryse's blog about realism and idealism..
and i thought that was so true for a lot of us right now who are really growing up and going into the next phase of life, where we can no longer afford to play with our lives anymore..
i'm glad that my future is in God's hands and i'm also glad that there are people in my lives that i can look up to, where they are willing to live and die for their dreams, where they are willing to lay down everything for their dream for God, where they have taught me a lesson with real life examples. :)


a last thought that i had..
it's hard to explain the joy that is inside of me when i see those friends whom i shared all the nonsensical moments with still running this race together after going through some rough patch in their lives..
i guess everyone will just have their own test from God to pass it with God..

and then it brought me to think about those who gave up on this road as i was reading Maryse's blog. those who once said they wanted to be a servant in God's house, those who wanted to impact people's lives, those who said they want to bring a revival to their schools and their families..
these people who gave up on their dreams..
i wonder what would they feel at the end of the day where the things that they now have faith in, suddenly collapse on them.. when all the glam and fame died off..
i'm sure they'll want to exchange everything for the dream they once had.

dreams are powerful..
but our decisions are even more powerful..
:)

cling onto your dream tightly no matter what, what you sow, you shall reap in due time.
:)

can't wait to receive from God in 16 hrs time.
goodnight!

anyway, there's gonna be CHC Powerhouse next week! WHOOO!
finally i'm able to attend the full prayer meeting this time..!


+ Faith